At Inspired Business Interiors, the health and safety of our staff, customers and community are of the utmost importance. We have implemented the best health practices and are closely monitoring the
COVID-19 situation.
We are open for business and are offering virtual consultations and rendered drawings as needed. Additionally, we've worked with our suppliers to offer great promotions on work home stations that ship in 48 hours as well as emergency response furniture.
Call (204) 414-9410 or email edit@ibiwinnipeg.ca for more information.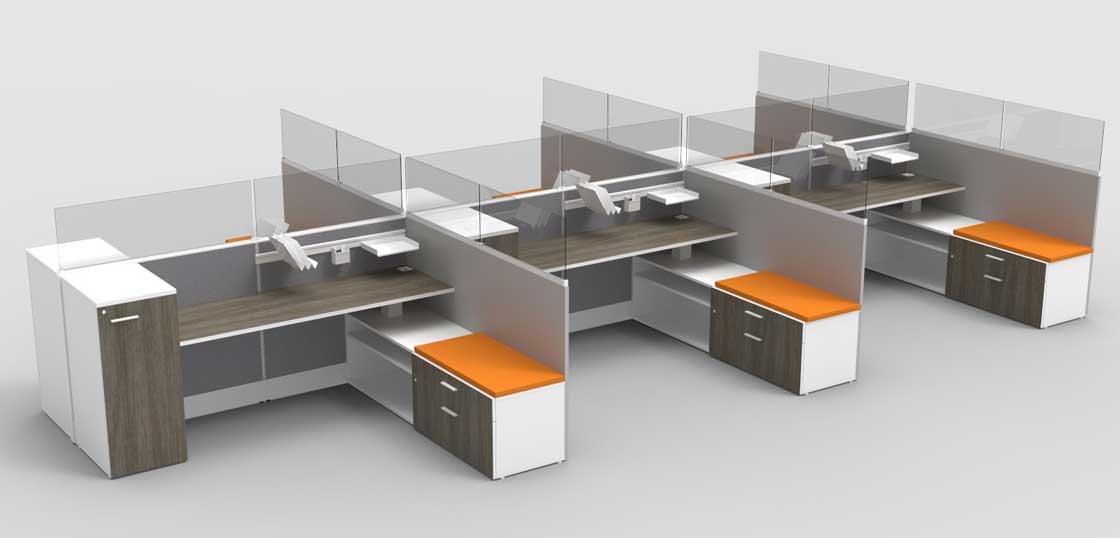 Impove "Social Distancing" the easy way by adding stack on panels to your existing work stations. Available in different materials and sizes.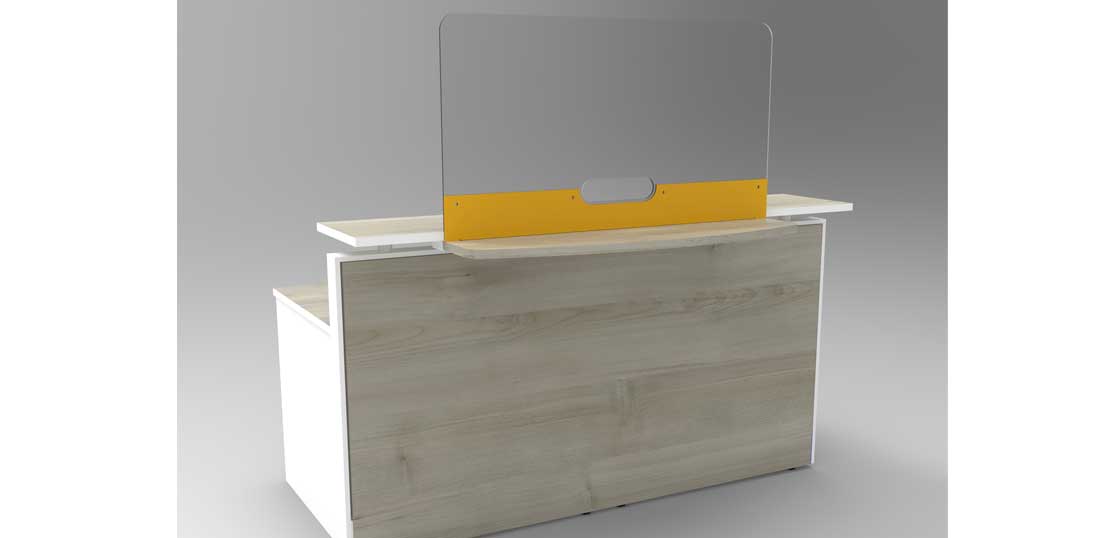 Visitor Shield for those important face to face meetings where you get to keep your transaction top to be usable surface.
We offer space planning rendered layouts to help you visualize your new space. We look after delivery, installation and the manufacturers warranty.
Get Your Office Furniture Here
Ergonomic Office Furniture Winnipeg
Office Chairs and Desks and Office Interiors
We've got the inspiration and furniture lines to make your workspace…a space that works!
Welcome to Inspired Business Interiors Inc., located in Winnipeg, Manitoba. Let us help you to create a work space that is ergonomically correct using the latest styles and innovations. Colours have an effect on mood so it is important to create a balanced and vibrant work place where clients and employees feel inspired to produce.
We'll help you choose the very best in office necessities, such as reception areas, desks, chairs, boardroom tables, storage components & systems.
Let us help you to improve and inspire any workspace in any industry – from healthcare and education facilities to mail rooms and manufacturers.
Space Planning and Design
You CAN furnish your office with Ease and Confidence!
The professionals at Inspired Business Interiors Inc. provide the optimal combination of Quality Products, Reliable Service and Fair Pricing. Our goal is to make your office furnishing experience a pleasant one and to ensure that you are completely satisfied when the project is complete.
We communicate and work with our clients to create their ideal space to work, produce and prosper. From choosing custom-designed furniture from our large selection of manufacturer's lines to reconfiguring rooms, cubicles or entire floors of offices, we love working with décor, colour and space to design ergonomically correct workplaces where people flourish and function at their best.
We pride ourselves in serving satisfied long term customers in all levels of Government, Business, Education and Healthcare. Some of our satisfied clients are: Essential Skills of MB, Laxer Grant LLP, Magellan Vacations, The North West Company to name a few. Here is what our customers have to say:
"Edit is a detail-oriented person, with great listening skills and works out of the box to meet the needs of the client. If there is a challenge in making equipment ergonomic she has exceeded our expectations. We will continue to recommend and work with her."
"We have been getting our office furniture from Inspired Business Interiors for several years now and we have always been very pleased with the service. Inspired has an extensive product offering, and they always give you good, honest advice on what would work best for your space. They also have a good sense of interior design and will assist in complementing the existing features. I would absolutely recommend both their products and services."
Sign up for our newsletter
Ronald McDonald House Charities (RMHC) Manitoba is committed to serving the needs of families with sick or injured children.  Because more children are healing today than ever before, the needs of children and families is increasing.
RMHC Manitoba embarked on a capital campaign to build a new Ronald McDonald House and grow mission delivery by 186% – from 14 bedrooms to 40 and from 11,000 sf to 60,000 sf.  We knew we needed the right partner to support the needs of our dining rooms, offices, and business centers.
Supporting local was important to us and after an RFP was complete, it was evident that Inspired Business Interiors Inc. was the ideal partner for RMHC Manitoba.
From our first communication and meeting with IBI to the end of the project, Edit and Michelle's commitment to customer service, professionalism, and positive attitude was steadfast.
The dynamic team are dedicated to ensuring the needs of the customer are met and exceeded.  Using their combined years of experience, they guided us with suggestions when needed, yet always respected our vision and goals of the new Ronald McDonald House. IBI's product lines are durable, functional, comfortable, stylish, and of high quality.  The wide range of options coupled with the team's knowledge and industry experience instilled confidence and trust.  The end result, quality products that fit the need and purpose of the new RMHC Manitoba Ronald McDonald House.
Another strength of IBI is the consistency of the partnership.  Edit and Michelle were our contacts from start to finish.  Every step along the way, they were engaged, informed, responsive and reliable. Strong communication and customer service was excellent and ensured RMHC Manitoba was an extremely satisfied customer.
RMHC Manitoba sincerely grateful to Edit and Michelle for their efforts and contributions to make the new Ronald McDonald House the best it can be for children and families. We wholeheartedly and strongly recommend you consider IBI for your business interior needs.
With gratitude,
Team Insurance in McIvor Mall Winnipeg, Manitoba boosts with life and color.
Furniture is Concourse by Tayco.
Concourse is designed for open plan, benching and private office applications. Concourse is a sophisticated yet practical furniture system with the attributes of classic furniture. Designed with timeless contemporary aesthetics, elegant details precise construction and a "retro" influence. Horizontal lines, intersecting planes, and refined cubic forms with low elevation combine to create a modern appealing work environment.
Concourse integrates several ergonomic design fundamentals such as work surface height adjustability that can be set from 26-inches to 32-inches.
Concourse is easy to reconfigure by using a simple inventory of "off-modular" components. Concourse includes work surface support components made of extruded and die-cast aluminum and powder coated with bright chrome plated details. Top mounted privacy screens are finished in designer acrylics, fabrics, laminates or tempered glass providing warmth and sophistication.
We've got the Inspiration and the Furniture Lines to make Your Work Space a Space that Works!
Don't miss out, contact us today to schedule a free consultation!
Contact Us!